In my first blog post, I wrote a small summary about the Lockheed Vega in real life. In this second blog I want to walk you through my thought process of choosing this airplane for our first product.
I always loved vintage airplanes. To me, nothing beats the reluctance start of a spitting and coughing radial engine like the P&W R-1340. I enjoy the awkward beauty of old aircraft designs. And in the simulator I relish the messiness of a steam-gauged cockpit and all the potential problems and hazards that come with it. When I want to relax, I indulge myself by reading old aircraft operating handbooks or engine overhaul manuals.
When A2A released their Boeing 377 for FSX I was blown away! The level of detail in the systems simulation was astonishing. All of a sudden you had to pay close attention to engine temperatures, oil pressure and the speed of the turbos, because things could actually go wrong if you don't fly the airplane by the book.
But in order to fully appreciate the airplane, you had to commit a lot of time. The B377 was after all a long-haul ship, designed for routes across the Atlantic ocean or coast-to-coast in the USA. I still miss a decent simulation of an airliner for short- to medium distances with a similar level of simulation. And since nothing like that seem to come out of the woodwork I decided to do it myself.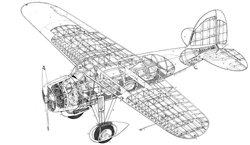 The Lockheed Vega lent itself for this for many reasons. I had certain requirements on the aircraft I would start to program:
Short- to medium range commercial aircraft – check
Radial engine – check
Iconic for the era of the Golden Age – check
Reasonably well known – check
Gorgeous looking plane – check
Not too complex, to keep the development time under control – check
Reasonably well documented – somewhat check
The Lockheed Vega fared extremely well in all but one of the points. You have no idea how difficult it is to track down a manual of a plane from 90 years ago!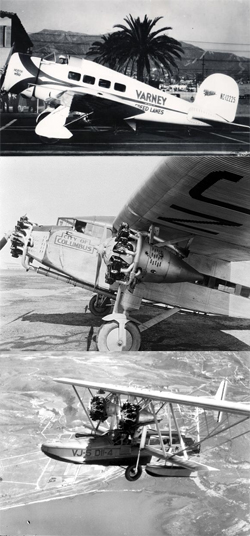 Other aircraft I considered were the Lockheed model 9 Orion, the Ford Trimotor and the Sikorsky S-38.
The Ford Trimotor didn't make it, because I felt that the 3D modeling would take up much more time due to the complexity of the geometry and lots of open wires, cables, exposed engines, etc.
The Orion lost because I simply couldn't find enough good reference material (photos, manuals, stories) about this type. And even though with a project like this you have to expect a certain level of creative license (I will certainly write about this topic in the future!), I didn't feel comfortable starting with the limited documentation.
Another aircraft I briefly considered was the Sikorsky S-38. And even though I love the idea of developing a float plane at some point, I put this one on the back-back-back-burner because it would involve simulating movement over water, waves, alternative ways of steering etc.
All these aircraft desperately need a good representation in Flight Simulator, but for a first project they all had a few hurdles that I was not willing to take.
The Lockheed Vega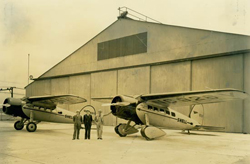 The Lockheed Vega is a great plane to fly in a flight simulator. It is a single-pilot aircraft, so you won't be overwhelmed by needing to fulfill multiple roles in the cockpit. She is a very iconic bird that lends itself for experiencing a number of interesting flight scenarios. She is reasonably fast, so you can use her to get from one place to another without the need of committing many hours to fly. Last but not least, she is a graceful and dazzling bird to take out. I am sure you will fall in love with her the moment you step into the virtual cockpit of our Wing42 Lockheed Vega 5!